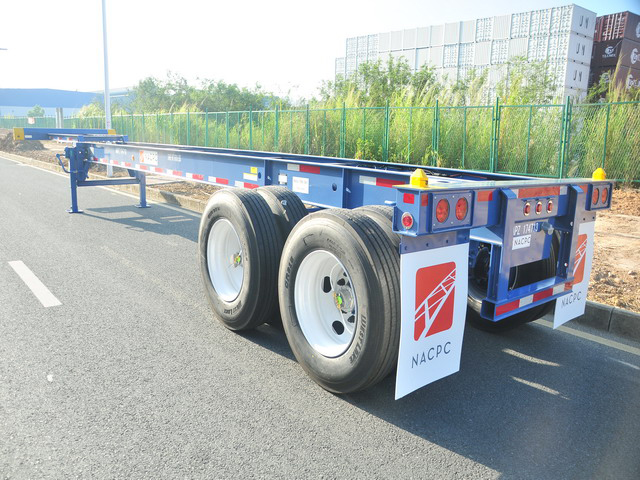 11 Jan

North American Chassis Pool Cooperative (NACPC) Launches Premium Chassis Pool in Ohio Valley

NASHVILLE, TN (January 11, 2017) – Following the successful launch of the Southeast and Gulf Premium Pools, NACPC will begin offering premium chassis product in the Ohio Valley starting January 16, 2017.

This new pool, managed by Consolidated Chassis Management (CCM) on behalf of NACPC, will be domiciled at ContainerPort Group, Inc. depots in the Ohio Valley cities of Columbus and Cincinnati. These units are new and come equipped with radial tires, LED lights and auto tire inflation systems.

"This expansion into the Ohio Valley represents NACPC's commitment to the region and the opportunity for customers to access state-of-the-art intermodal chassis in the market — optimizing their business," says Richard Mazur, Vice President of Sales, NACPC.

With their superior chassis solution, NACPC is the benchmark for equipment, customer service and fair pricing in the industry. Our fleet of off-dock premium chassis, the newest and safest on the market, is available using our at-cost pricing model. Customers receive quality equipment and pool management (including maintenance). Cooperative membership is open to qualified motor carriers.

To request a premium chassis in the Ohio Valley, visit www.NACPC.org/ohiovalley.

 

About NACPC

The North American Chassis Pool Cooperative, or NACPC, was founded in 2012 with the goal of providing a modern fleet of chassis to users with at cost pricing. The cooperative is committed to supporting the U.S. intermodal container network with an efficient chassis inventory. Use of NACPC chassis is open to all qualified motor carriers.

Contributory "gray pools" allow users to draw any chassis from the pool regardless of ownership. The contributory pool model thus eliminates duplicative costs and maximizes the use of limited space at port and or inland intermodal locations by obviating the need for a contributor to have its own chassis storage facility. It also ensures an adequate supply of chassis for all users. The pool managers are responsible for chassis logistics, inventory supply, maintenance and repair and the repositioning of the chassis but usage arrangements are determined between the chassis contributor and its user. Contributory gray pools foster competition by allowing motor carrier users to select from more than one chassis provider. Currently, NACPC operates more than 18,000 chassis in four CCM managed pools; MCCP, COCP, GCCP & SACP.